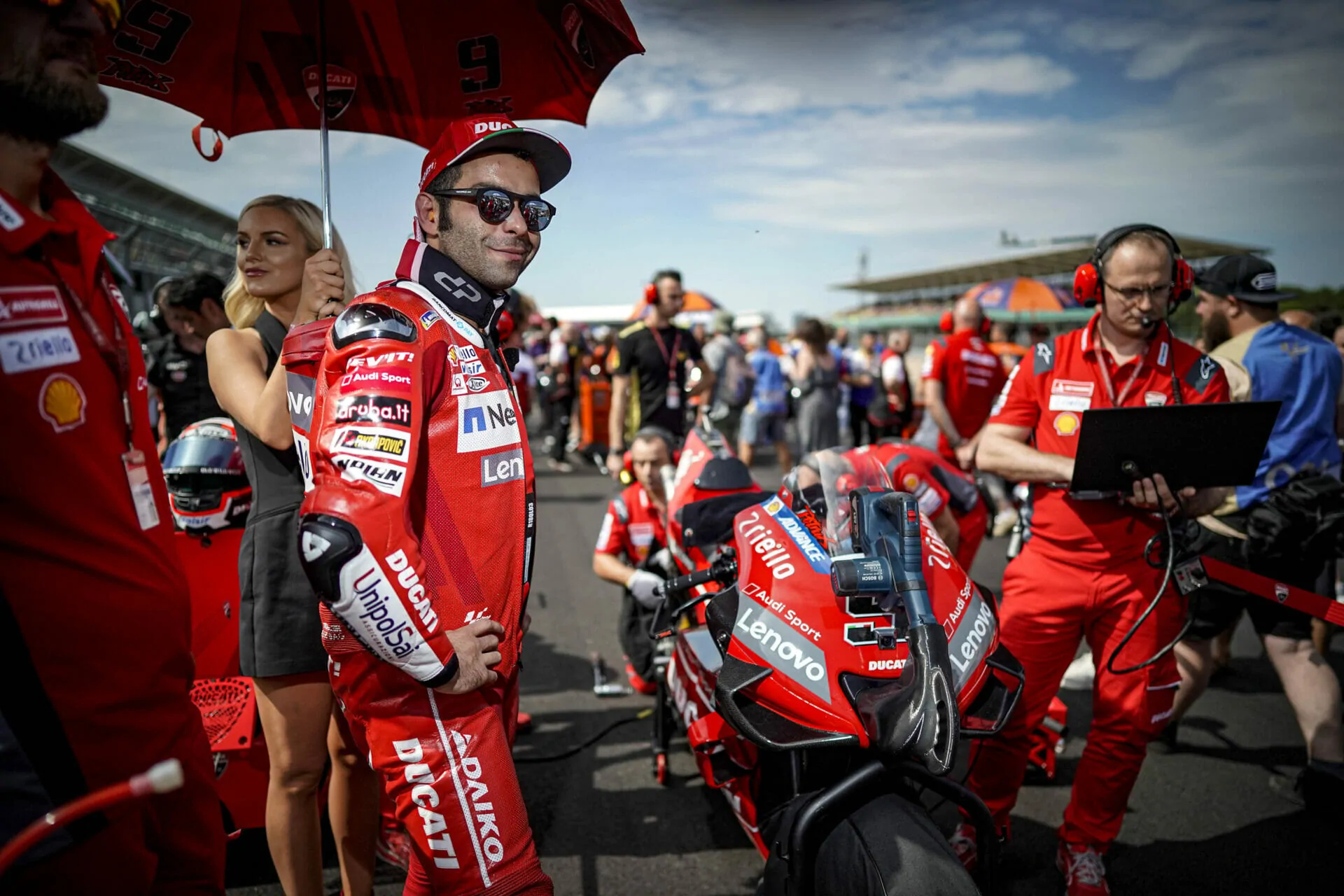 GoPro BRITISH GRAND PRIX MotoGP – RACE
Danilo Petrucci (#9 Ducati Team) – 7°
"Sapevo che quello di oggi sarebbe stato un GP difficile e l'incidente alla prima curva ha condizionato la mia gara, perché avevo deciso di restare all'esterno ma mi sono trovato davanti le moto di Andrea e Quartararo ed ho perso tante posizioni. Ho poi iniziato la mia rimonta e non è stato per niente facile superare gli altri piloti, però negli ultimi dieci giri sono stato veloce e ho fatto segnare il mio giro veloce al penultimo giro. Certo che senza l'incidente sarei potuto finire più avanti, ma quando parti così indietro può succedere di tutto. Mi dispiace per questa occasione persa ma soprattutto per Andrea, e spero che non si sia fatto nulla di grave".
"I knew that today it was going to be a difficult GP for me and the incident at Turn 1 affected my race, because I had decided to stay on the outside line but found the bikes of Andrea and Quartararo in front of me and I lost a few places. I then began my recovery and it wasn't easy to pass the other riders, but in the last ten laps I was quick and I set my fastest lap on the penultimate lap. For sure without the crash I could have finished higher up, but when you start so far behind anything can happen. I feel bad about this missed opportunity but above all I feel bad for Andrea, and I hope it was nothing serious."
"Sabía que sería un GP difícil pero el accidente en la primera curva ha condicionado mi carrera porque había decidido mantenerme en la parte exterior y me he encontrado detrás de Andrea y Quartararo y he perdido muchas posiciones. Después he empezado a remontar y no ha sido nada fácil adelantar a otros pilotos pero en las últimas diez vueltas he sido especialmente rápido y he hecho mi vuelta rápida en la penúltima vuelta. Es verdad que sin el accidente seguramente hubiera terminado más adelante, pero cuando sales tan atrás puede pasar de todo. Me sabe mal por Andrea, que ha perdido una buena oportunidad y espero que no se haya hecho nada grave".